Thursday, November 19, 2009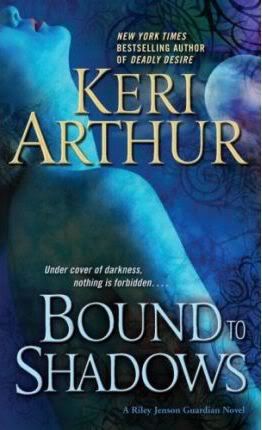 Description:

In the darkness, demons come out to play . . .
and someone must bring their sins to light.
Part vampire, part werewolf, Riley Jenson knows what can happen when vamps don't play well with others. But she's never seen anything like this: a series of brutal murders surrounding the latest hot spot for vampire-human hookups—and the victims aren't just killed, they're beheaded. Now Riley is launching into action, toying with a seductive—and highly suspicious—club owner, and finding herself in the middle of another mystery: women being killed one by one, without a trace of violence.
For Riley, solving multiple cases—in a world going mad with human and vampire passions—would have been tough enough. Instead she has two jealous lovers on her hands: Kye Murphy, the amber-eyed werewolf who makes Riley's wolf blood howl—and Quinn, the cool, elegant vamp who has over a thousand years' experience at fulfilling women's desires. While she's busy juggling these two sexy beasts, Riley's detective work takes a stunningly violent turn. Finding a murderer is now a matter of life and death. Especially since the killer has long since found her . . . (Book Blurb)


Review:
This is the first book I read in this series and if you take a look at the series list at the end of this post you will realize that it is book #8. But I had no problem at all with following the story or with understanding who is who.


The story is about Riley Jenson, she's part vampire, part werewolf and she won my heart with loving coffee more than anything(ok perhaps that's a bit of an exaggerated) and hating cold weather. That's a girl I can sympathize with. Riley is head strong without being unemotional and she's not perfect, another thing I can really appreciate. She's deep in love with a vampire, the really good looking Quinn but there's a problem she can't ignore: her werewolf soulmate Kye. And I have to admit this man is high on my most hated characters list. But hating the bad is okay in my opinion. The whole time I wanted to scream: "Kill him now or I'll do it myself." But there's a catch: she can't kill him or she might dies too. That's what happens to soulmates and makes a really frustrating situation. She doesn't loves him, he's a total asshole, she can't get rid of him and there is one thing that makes the mess even bigger: As her soulmate he is like a big sexual chocolate cake in her eyes. Not good combination at all.

The werewolves and shifters in this world are all sexually intense to put it nicely. I found it quite amusing to read them banter back and forth. One of my favorite characters was Kade. He's a stallion (yep, you read that one right) and he has a stable (and yep again) of women. OMFG I want to read more about that. Yeah, I know I'm dirty but I love my smut.
I love that Riley's twin brother has a boyfriend and wondered if there is a book just for these too. They are quite a couple and they stole my heart. So sweet together.

The plot is well developed. I felt like Ms. Marple while I read this book, always trying to guess who the murderer is. The story gripped me and I couldn't stop reading. The characters are likable (I'm excluding Kye here) and I loved the way they interacted. I had a problem with one thing at the end, that I really didn't like but I can't tell you what it was because that would be a spoiler. In spite of that one thing (and Kye), I enjoyed reading this book and I hunger to reading more about Riley. So I need the first 7 books. Can you hear my creditcard groaning?







The Riley Jenson Guardian Series:

1. Full Moon Rising:
reviews @goodreads, buy @amazon
2. Kissing Sin: reviews @goodreads, buy @amazon
3. Tempting Evil: reviews @goodreads, buy @amazon

4. Dangerous Games: reviews @goodreads, buy @amazon

5. Embraced By Darkness: reviews @goodreads, buy @amazon
6. The Darkest Kiss: reviews @goodreads, buy @amazon
7. Deadly Desire: reviews @goodreads, buy @amazon
8. Bound to Shadows: reviews @goodreads, buy @amazon

This book was sent to me as a review copy from
Meryl L. Moss Media Relations, Inc. I did not receive money to write this review. All the amazon links are affiliate links.