Saturday, January 30, 2010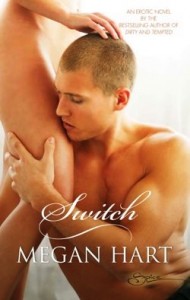 Description:
Don't think.
Don't question.
Just do.
The anonymous note wasn't for me.
Don't get me wrong, I'm not in the habit of reading other people's mail, but it was just a piece of paper with a few lines scrawled on it, clearly meant for the apartment upstairs. It looked so innocent, but decidedly— deliciously—it was not.
Before replacing the note—and the ones that followed— in its rightful slot, I devoured its contents: suggestions, instructions, commands. Each was more daring, more intricate and more arousing than the last… and I followed them all to the letter.
Before the notes, if a man had told me what to do, I'd have told him where to go. But submission is an art, and there's something oddly freeing about doing someone's bidding…especially when it feels so very, very good. But I find that the more I surrender, the more powerful I feel—so it's time to switch up roles.
We play by my rules now.
Review:
I received this book as a review copy from
netgalley
and then...uh...kind of bought the book out of my OCD to have the really good books as a print copy.
At first I really loved this cover. It represents the book really well and it is just nice to look at. Then I remembered the discussion about "Is he sniffing his armpit?" (BF thought that too by the way) and now I always have to smile when I look at it.
Just to warn you in advance: I'm such a sucker for Ms. Hart's writing and I can hardly leave out all the adoration and awe I feel while thinking about her books.
Like always while reading a book by this author I was highly surprised to get something different from what I expected. After reading the blurb I thought about a highly erotic game in a D/s relationship. But again this book is so much more.
Paige is a very complex character although her life is nothing exceptional- she is the illegitimate daughter of a businessman and his secretary. She is in her twenties now and already divorced once. She has a strange love for paper and ink and quite quirky boss but otherwise her life is completely ordinary. Until she finds the first note in her mailbox. The note is not for her but who would put a unsealed note down before reading it (not me- I would be reading it ASAP too). And OMG what a message this note is:
Shall we begin?
This is your first list.
You will follow each instruction perfectly. There is no margin for error. The penalty for failure is dismissal.
Your reward will be my attention and command.
You will write a list of ten. Five flaws. Five strength. Deliver them promptly to the address below.
So huh? Now you all feel nosy? I so did. The journey Paige goes with these notes is eye-opening not only for her but for the reader too. Or so it was for me. I really adored the way Ms. Hart developed Paige's view of relationships, men and sexuality through these little notes. I won't tell which direction this takes but it was a surprising one.
On the other hand we have Austin. He is Paige's high school love and ex-husband. Austin has his good and bad sides. I couldn't decide at the start if I liked him or not. But with time he really grew on me and sometimes I was more on his side and would have loved to tell Paige what I think of her decisions.
We also have her sexy neighbor Eric. He's a real eye catcher and a very nice person but was way too nice for me. I was praying the whole time that he would make a move on Paige but you have to read that for yourself. *wicked grin*
This book, as all books by Megan Hart, was a wild ride for me. It's not a great tearjerker as the former books I read but perhaps I got glassy eyes ones or twice. *wink* I always love that her books are so full of emotion and they have such an intense and real feeling that I can only say: you all should read one of her books. Her novels are always so much more for me than just an erotica. Don't get me wrong, I like my erotica smutty and all but hers are always so emotional intense and thought inspiring. It could be that this is only my impression but I just can't stop buying her books (only 2 this week *guilty face*). Megan Hart's writing is a new addiction of mine and I can't wait to get new fix!





To learn more about Megan Hart and her books please visit her website here.You can read other reviews @goodreads and buy the book @amazon.